Of the more than 875 million people LinkedIn claims to have, 84M+ people/profiles can't be found. Suppose you use a location filter on your LinkedIn account (Basic, Recruiter / Recruiter Lite).
In one of my previous posts, I discovered that there were people without an actual location, only a country. And the example for the Netherlands with a small hack that I was missing 200K and for Australia, 100K people. As Glen Cathey refers, those people/profiles are missing and lost in the Dark Matter.
The LinkedIn Recruiter and Recruiter Lite location filter
I was playing around with the location filter. What if we can eliminate all the countries and continents in the world? Will I get nothing? So everybody is attached to a country? So I started removing big continents, Europe, the USA, Africa, South America, and Asia.

And after that, use the search breakdown to find countries I can exclude further from the list. I couldn't check all the countries. After 60+ countries/continents, the search broke.

Hmm, let's see what kind of regions LinkedIn Sales Navigator has. Oceania, yes, that eliminates a lot of small islands.
I have eliminated all these 16 locations below:
Europe, United States, Africa, South America, Asia, New Zealand, Australia, Russia, Eurasia, North America, Oceania, Piscataway, Norfolk Island, German South West Africa, Antarctica, and Reunion.
And I am only getting an empty query in my search breakdown on location. So I can't add any other locations to my search.

84 Million people are left behind in the dark matter
Wow, what is interesting is that many people have no location at all. How is that even possible? Scrolling through the first page, I found, for example, these three people with no location.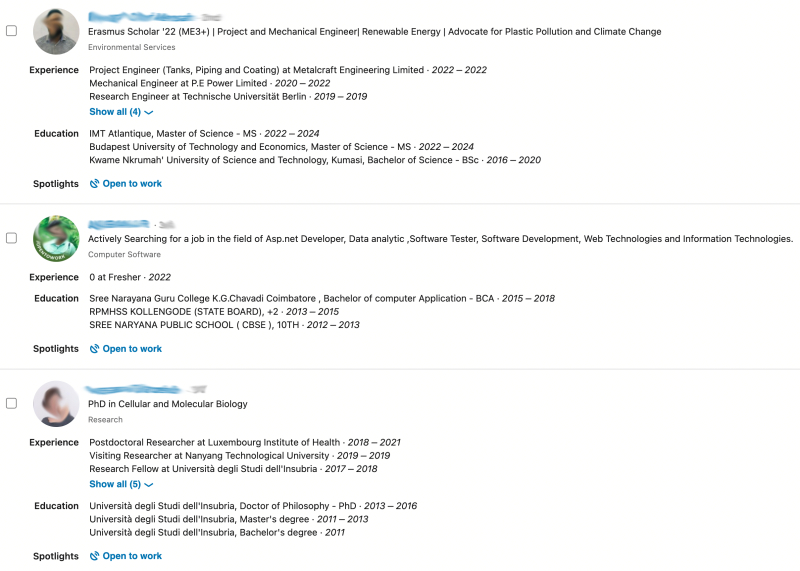 Hello, meet Tao Sun
And then my eye catches a European developer in Sweden with an #opentowork green banner on his profile. He is a gopher (Golang developer), and his name is Tao Sun. I couldn't find him on LinkedIn with Sweden. Basic, LinkedIn Recruiter or Recruiter Lite. Even with first name and last name. I could see him if I X-rayed Tao with an unusual number of programming languages. So, one extra for X-raying Irina Shamaeva. I am a massive fan of X-raying. There is also a downside. It can be complex for the average recruiter. And if you work in a larger team with LinkedIn Recruiter, you need to add those to your LinkedIn Recruiter pipeline. So your colleagues don't accidentally message the same candidate for another job.

I sent him an email, and he responded immediately. Hereunder you will find this correspondence.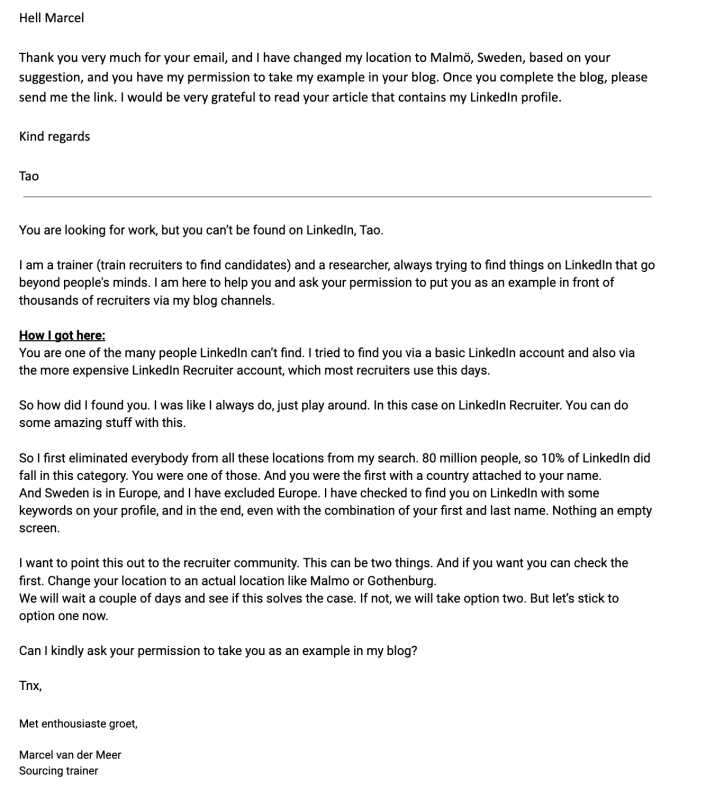 Change the location that helps the candidate.
I asked him to change his location to an actual city in Sweden. And boom, he was directly indexed out of my excluded list into the Sweden LinkedIn account. Tao is out of the dark matter again.
PS: Tao Sun is still looking for a job.
How can you find those candidates?
Exclude these 16 regions and countries: Europe, United States, Africa, South America, Asia, New Zealand, Australia, Russia, Eurasia, North America, Oceania, Piscataway, Norfolk Island, German South West Africa, Antarctica, and Reunion.
Try different search angles. For example, search for locations in keywords. Or search for a university that is a good indication of a country of origin. Or filter for spoken languages. Etcetera.
If you send them a message, please refer to this blog. Let's get them out of the dark matter.
What, only 25 people in my search?
I was playing around a lot to exclude these 16 regions. And wanted to preserve my search, so I made a custom filter for it. After a new clean search, I called the custom filter, and only 25 people were in the search. How is this possible? I logged out and logged in again. Still the same result. I started a new search, and the 80M+ people were back again.

Custom filter somehow breaks the search, but. Suppose you take, for example, a skill, a keyword, and a language selection. I checked this with Dutch as a language. And 24K+ people are there with no location or a location that can't be found. So don't be alarmed. Maybe I alarmed the big blue.